ABOUT YMG
Young Musical Geniuses of Birmingham is an Alabama Federated Music Club (AFMC) in affiliation with the National Federation of Music Clubs which is the largest philanthropic musical organization in the world. The AFMC Junior Music Club festivals are designed for all junior music students: "Not to earn a prize, nor to defeat an opponent, but to pace each other on the road to excellence."

The day to day preparatory development of the pianist is crucial to the future success in music as an adult. During these years of the evolving musician, I hope to maintain positive channels of open communication with parents in order to provide the necessary support to our young musicians. To that end, this report emphasizes discipline and the achievement of skills basic to music excellence.

We offer programs designed to meet the needs of all junior music students with options available from studio to individualized private instruction. Call for an interview/appointment to determine the best program for your child.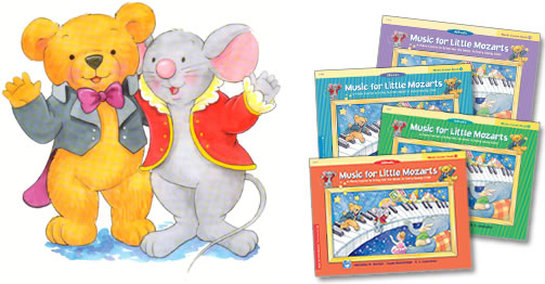 MOZART PROGRAM

The Mozart Program is an innovative curriculum plan of instruction and activities designed to provide an appropriate piano learning environment for 4 -8 year-olds. It utilizes the Music for Little Mozarts method, the foremost piano series for young beginners, integrating age-appropriate piano instruction with musicianship activities which promote overall musical development.


A MUSICAL ADVENTURE
Students follow Beethoven Bear (TM) AND Mozart Mouse (TM) - from the play room to the recital stage - as they learn about music. These young musicians also develop singing and listening skills. This integrative approach provides a balance between the discipline necessary for playing the piano and the enjoyment one gets from the process of making music.

LESSONS for LIFE
Little Mozarts begin to learn how to read, write and play music. Just as importantly, they enjoy the added bonus of increasing cognitive skills, self-discipline and creative expression.
---
---
YMG OFFICERS
YOUNG MUSICAL GENIUSES
AFMC JUNIOR MUSIC CLUB
2017-2018 OFFICERS
Shira Ayanna Hamby, President
Angel Reneé Thomas, Vice President
Katelyn Madison Kepple, Secretary
Kenlie Jade Nelson, Financial Secretary/Treasurer
Emmanuel Malijah Kidd, Historian

P. Bowman Billups | Junior Counselor Mélodie Echols | Junior Counselor
ALABAMA FEDERATION OF MUSIC CLUBS

(AFMC) 2017-2018 OFFICERS

Patricia Bowman Billups AFMC Festivals Chair